How Do Buy to Let Mortgages in Nottingham Work?
The Financial Conduct Authority does not regulate some types of commercial or buy to let mortgages in Nottingham.

In the mortgage world, there are lots of different routes that a property purchaser can go down. From a first time buyers in search of their first home, to existing homeowners remortgaging, holiday let properties and even HMO's, there is plenty for you to do.

One mortgage type we regularly hear of, that is perhaps one of the most popular options for customers, is a buy to let mortgage in Nottingham.
What is a buy to let purchase and mortgage in Nottingham?
A buy to let in Nottingham property that you invest in; It's not somewhere you can personally live, the sole purpose is to make money. If you have previously been a private renter, you have likely lived in a property that has a buy to let mortgage attached to it.

In order for a property to count as a buy to let in Nottingham, it has to be mortgaged with the landlord's intent to be to rent it out. The tenant will pay the landlord monthly, with that payment being enough to cover the landlords mortgage fee, plus a little extra.
Am I eligible for a buy to let mortgage in Nottingham?
There are many different factors to look at when determining if you are eligible for a buy to let mortgage in Nottingham, or not.

Some of these factors can include what type of property you want to buy, how old you are (you must be at least 21 and there will be a limit on the mortgage lenders who let you take a buy to let beyond 75), as well as any buy to let landlord experience you have.

The biggest most important factors to look at are affordability, the minimum deposit requirements and also what credit score you have.
Affordability
For you to be able to prove that you are eligible to take on a buy to let in Nottingham, you will need to prove that you are able to afford one, to your mortgage lender. A large portion of mortgage lenders will base their criteria on what your projected rental income is.

Projected rental income is the amount that the mortgage lender believes you will need to charge, in order for you to be able to cover the costs of your monthly mortgage payments, plus a little bit extra. There will be a set requirement that the mortgage lender will calculate using your properties value.

As well as using a projected rental income, some buy to let mortgage lenders will also use a minimum income requirement, which is typically £25,000, though this can be entirely dependent on which mortgage lender you are with.

A trusted and experienced mortgage broker in Nottingham, such as Nottinghammoneyman, with knowledge of buy to let mortgages in Nottingham, will look to find you the most suitable mortgage deal for what it is you are looking to achieve, with the most appropriate mortgage lender.
Minimum Required Deposit
As it tends to be with any purchase, you will also be required to put down some form of deposit. As a rule, when it comes to a buy to let in Nottingham, the minimum deposit is usually somewhere around 20-25% of the value of the property, though this can vary between mortgage lenders.

The reason that this is often higher than a residential purchase, is to reduce the risk to the mortgage lender. By putting down a larger deposit, you're borrowing less against your new property. This will also open you up to a 75-80% loan to value, which can help you access much better rates of interest.

If you are even higher of a risk, say you're applying for a buy to let mortgage in Nottingham with bad credit, you may be required to put down an even bigger deposit.
Credit Score
It may be possible for you to obtain a buy to let mortgage in Nottingham if you have a poor credit score or bad credit history, though you may be limited on your selection of mortgage lenders. There are also some who won't lend at all for bad credit.

Looking at those mortgage lenders who may accept this, they will most typically want to look at factors such as how bad your credit history is and how it got to that point. Furthermore, you may be required to put down an even bigger deposit.
How do I apply for a buy to let in Nottingham ?
Before you look to make an application for a buy to let in Nottingham, your first task is to make a purchase on a property you would like to own and rent out.

From that point, you should look to get in touch with an expert buy to let mortgage advisor in Nottingham, so that they can confirm eligibility, review the market for the best mortgage deals, and get your agreement in principle arranged.

Once those steps have been completed, you'll be able to make an offer on the property you like, which will progress into your full mortgage application, providing the offer you made was accepted.
What type of buy to let in Nottingham could I apply for?
For the most part, we find that buy to let investors, especially the serious ones, will look to take out a interest only mortgage on their property. With this type of mortgage, you will only be paying interest per month, which will be much cheaper than a repayment mortgage.

Once your term has concluded, you will owe the remaining capital balance, a little caveat that might be off-putting for some. Typically a landlord will pay this back by selling the property in question, or remortgaging onto a repayment mortgage. You may also need to set up a repayment vehicle.

Whilst this mortgage type most commonly occurs and is considered to be the most tax-efficient, you are still able to make an application for a repayment mortgage on a buy to let in Nottingham. As it would be with most mortgages, this will have you paying both interest and capital combined.

This type of mortgage can mean higher monthly mortgage payments than interest only, though it would also allow you to grow equity in your property. Once your term is due to end, you would own your property outright, without the need to make back any large capital payments.
How much can I borrow for a buy to let mortgage in Nottingham?
As discussed above, a mortgage lender will want to test what your projected rental income is, in order for them to figure out how much you need to earn, so that you can cover the costs of your monthly mortgage payments.

Regarding how much you are able to borrow, as long as your projected income can cover the amount you are asking to borrow, you likely won't be limited. That being said, a mortgage lender may also want to see that the projected rental income goes beyond the monthly payments by a certain amount.
What documents are needed for a buy to let in Nottingham?
So you can apply for a buy to let mortgage in Nottingham, you must provide a mortgage lender with all kinds of documents, before you can proceed. These documents can be, proof of your income, deposit, ID, address, any bonuses and/or commission that you get, and your current or most up-to-date P60.

Self employed applicants will have to typically also provide their SA302 tax returns. Existing landlords may also be required to provide proof of rental income, something that usually comes in the form of an ARLA-regulated report, in addition to a mortgage statement for your existing properties.

Having as much of this to hand as you possibly can, ahead of applying for a buy to let mortgage, can see your mortgage application progressing a lot quicker than it otherwise would, so it is definitely recommended that you are prepared ahead of time.
Are there any additional costs included with a buy to let in Nottingham?
As tends to be the case with any mortgage, you will have some standard costs involved. You will also be required to put down a deposit, could have mortgage arrangement, application and broker fees, as well as your monthly payments to make. All the usual costs you would expect.

On top of this though, there may be a selection of further fees that you could have to pay. Some of the more frequently encountered ones include valuation fees, product fees and also mortgage exit fees. Furthermore, there may be some solicitors fees and disbursement fees, as well as stamp duty.

Your dedicated and trusted mortgage advisor in Nottingham will be able to more accurately advise on what your stamp duty rate might be. If you ever make plans to exit your buy to let in Nottingham early, you could also have an early repayment charge (ERC), which can be quite costly.

Lastly, you will also have to consider costs that will go even further than just your mortgage process. Landlord insurance will be something you need to think about as well, along with letting agent fees, income tax and then your general property maintenance costs.

From time to time, you may find that your tenants need something to be looked at by a professional. Depending on what actually needs to be carried out on your property and the contractors you are hiring, this can vary from either quite cheap, to quite costly.

Every single cost that is involved in your buy to let mortgage process will differ, depending on mortgage lender, as well as the state of your personal and financial situation. Some of these won't be involved, though your mortgage advisor in Nottingham will make sure you're aware of everything that is.
Can I remortgage a buy to let in Nottingham?
For the most part, yes, you can remortgage a buy to let in Nottingham. We often find that the main reason a landlord could be looking to take out a buy to let remortgage in Nottingham, is so that they can release some equity from the property, to put down a deposit on a further property.

The equity that is within your buy to let in Nottingham will differ from your typical residential property, if you are going with an interest only mortgage. Normally your balance and the interest would come down at the same time, creating a much larger gap between your balance and the value.

When you have an interest only buy to let, only the interest goes down. That means the equity within your home entirely depends on how much deposit you put down and if the home has grown in value. Relating to interest only mortgages, you may decide that you want to pay capital as well.

This may actually be possible for you to do, if you were to look at remortgaging your interest only buy to let property onto a repayment mortgage. This would give you higher monthly mortgage payments, but would let you pay off interest and capital together.
If I am a first time buyer, can I get a buy to let mortgage in Nottingham?
Though the options present may be limited, it is actually possible to obtain a buy to let in Nottingham as a first time buyer! When looking at this type of route, you will most likely need a much bigger deposit, in order to access how much you are asking to borrow.

You should also bear in mind that you will also be losing many of the first time buyer benefits, such as stamp duty. This is because this won't be your primary residence and buy to let landlords will typically have some level of stamp duty to pay on their portfolio.

For a lot of first time buyers in Nottingham, becoming a landlord can actually be a very smart way of supplementing your income, prior to affording your own mortgage on a property down the line, when you are ready to take that next step.

It is important to remember that in this instance, a mortgage lender will look to assess you on your second purchase, fully aware that you already have a mortgage that is in your name. This could affect your affordability or lower the amount that you are able to borrow.
Can I Remortgage and Extend The Term in Nottingham?
There are many different reasons as to why a homeowner may look to take out a remortgage in Nottingham. You can find lots of information about this on both our website and across the internet, whilst you are researching this option.

From remortgaging to release equity, to taking out a remortgage for home improvements, there are plenty of options out there for homeowners. One that people maybe don't talk about enough though, is that you can actually remortgage in Nottingham to extend your term.

Yes, that's correct, you may be able to remortgage in Nottingham and extend the length of your mortgage term!
Why would I remortgage in Nottingham to extend my term?
Your term is how long you have to pay back your mortgage, based on the contract you signed with a mortgage lender. Popular choices are usually around 25-30 years, which is a long time to be financially liable for something, though also provides long-term security.

Once you get through part of your process, maintaining your payments might be difficult, perhaps your bills have risen. In taking out a remortgage to extend your term, you spread the cost of your mortgage over a longer term, lowering your monthly mortgage payments.

This in turn can then free up much more disposable income that you can use per month. It's not sunshine and rainbows, however, as the downside is that your interest will be spread across that extended mortgage term as well.

What this means, is that whilst it will be cheaper in the short term, giving you that extra disposable income per month, you will actually be spending more on your mortgage overall by the time your term has finished.
Can I remortgage in Nottingham to extend my term if I'm borrowing more money?
Yes, you may be able to look at extending your term if you would like to borrow additional funds or remortgage to release some equity that is in your home.

Truthfully, you can probably extend your term on any remortgage path you're looking to take, with popular options for homeowners being to remortgage home improvements or to take out a debt consolidation remortgage in Nottingham.

It is again important to remember though, whilst you will be extending your term over a longer period of time so you can lower your monthly mortgage repayments, you will be paying more interest overall by the time your term has finished.

You should think carefully before securing other debts against your home. By adding your unsecured debts to your mortgage, which is secured on your home, you are potentially putting your home at risk if you cannot make the required repayments.

Although the total monthly cost of servicing your debt may have reduced, the total cost of repayment may still have risen as the term of your mortgage is longer than it may have taken to repay the debts originally.
When wouldn't I be able to remortgage in Nottingham and extend my term?
Though there may be variances from mortgage lender to mortgage lender, there are lots of factors that could potentially limit your ability to remortgage in Nottingham and extend your term. These include, but are not limited to, your age, mortgage type and any mortgage debts.

If this doesn't work for you, please remember that there may still be options to help you lower your monthly mortgage payments. Your dedicated mortgage advisor in Nottingham will review your case, and look for the most appropriate outcome to help you.
Can I remortgage in Nottingham to extend the term of my interest-only mortgage?
This can be a little complex, as not many mortgage lenders will give you the option of extending the term of your interest-only mortgage. Some may not have an issue with this, though you will still owe the lump sum of interest once your term concludes and they may want to avoid payment delays.

Additionally, the majority of residential properties will be on some variation of a repayment mortgage, as a residential interest-only is much less frequently occurred in modern times. Instead, it is much more common to find an interest-only attached to a buy to let property.

This in itself with have its own challenges, as not only will you have the same problems of paying back the lump-sum, but a mortgage lender might not allow you to extend your term if the property still has a tenant living inside of it.

In any situation, your best route may be to look at taking out a remortgage on your property, so that you can replace your interest-only mortgage with a repayment mortgage. This would allow you to continue by paying back both the capital and interest combined.

We would absolutely recommend speaking to an expert member of our remortgage advice team, so that you can better understand the options that may be available to you, prior to making any decisions.
What if I want to reduce my term instead?
Perhaps you actually wish to reduce your term instead, which once again can also apply to pretty much every mortgage situation. In this circumstance, quite the opposite to extending your term, you would pay back much less overall, though would likely have much higher monthly payments.
Alternatives to extending your term
Rather than taking out a remortgage so that you can extend your term, you may actually have other options out there available to you, if you would like to go the route of saving money per month. In this article, we have already looked at remortgaging, but what about downsizing?

Downsizing means that you sell your current home, and move into a smaller home instead. As a general rule, a smaller home could cost less, reducing the need for a big mortgage, which in turn could have lower monthly mortgage repayments if taken over the same term.

Another option, for homeowners over the age of 55, with a property that is worth at least £70,000, is equity release in Nottingham. This could allow you to release funds tax-free from your home, either as a lump-sum or in occasional payments, through a lifetime mortgage.

Even then, equity release in Nottingham might not be the most suitable path for you to take. There are also options for homeowners over the age of 50, such as retirement interest-only mortgages and term interest-only mortgages, known as RIO's and TIO's.

Similar to how it would work when taking out an equity release plan, with a RIO or TIO, your loan will only be repaid when you are dead or have moved into long-term care, with your home being sold at either stage.

A professional, trusted and dedicated later life mortgage advisor in Nottingham will be able to review your possible options and alternatives as a later life homeowner, advising on the most appropriate path to take, based on what you wish to achieve, as well as your future plans.

To understand the features and risks of equity release and lifetime mortgages, ask for a personalised illustration.

A lifetime mortgage may impact the value of your estate and it could affect your entitlement to current and future means tested benefits. The loan plus accrued interest will repayable upon death or moving into long term care.
Buy to Let / Offset Mortgages
Planning Your Pension: Offset Mortgages
Many people are quite fond of the idea of creating a property portfolio to fund their retirement.

Not everybody necessarily likes a pension plan, but they do understand their property. I know that over the past 20 or 30 years it has been a sound long term investment despite both the ups and the downs.

In this case study, we look at one way we helped a client in taking her very first steps on the road to becoming a landlord with a buy to let mortgage in Nottingham.
Remortgaging for a Buy to Let Mortgage in Nottingham
Penelope is a self-employed mum of two, working as a Director of two small businesses in Nottingham. She and her partner had a rather sizable amount of equity in their home and were interested in raising some capital to buy a low value buy to let property, possibly at an auction.

Penelope felt she would be able to find a few bargains at auctions, but she never had enough money to attend and make a purchase as a cash buyer.

She had looked into remortgaging her own house in Nottingham in order to achieve this, but had been advised that unless they could provide an address for the property they wanted to purchase, this would not be possible. A chicken and egg scenario, where neither can exist without the other.

Penelope also mentioned that once or twice a year, she received a dividend in the region of £3000 from one of the companies she was a sleeping partner in, and she has been prone to splashing some of that cash for luxury, without perhaps giving it some thought.
Surplus Funds Allowing You to Gain Lower Interest Rates
I could tell that Penelope was a very busy person but also an astute businesswoman. The dividends she received could be put to better use, especially as she had never particularly earmarked it for anything specific.

I recommended that she take out an offset remortgage in Nottingham, that Penelope and her partner secured on their home.

I found a lender who was happy to release the funds needed on completion, to be assigned to a future buy to let purchase without insisting on a specific property, giving them the opportunity they were looking for.

Penelope simply deposited the additional funds into the offset savings account that comes as part of the mortgage, and the money was left to simply sit there until it was needed.

The offset savings accounts do not attract interest but instead is offset against the mortgage balance.

To clarify, Penelope had £85,000 surplus funds from a total remortgage of £215,000. While the money is in the savings account, Penelope only pays mortgage interest on the £130,000 difference between the two figures.

The £85,000 is on instant access and is available at any point in time when she needs it.
It's All About Choosing the Right Property & the Right Investments
Three months after completion, Penelope identified a suitable property that was in need of some desperate work. It was probably not mortgageable itself, but of course, Penelope had access to liquid funds to make the purchase as a cash buyer.

Penelope secured the property at a knock-down price of £55,000, but this amount needed to rise to a total of £70,000 to fund legal costs and a refurbishment program of works.

After an additional 9 months of work, with everything that needed to be done now completed, Penelope found it fairly easy to find a tenant. The house was now worth £90,000, and we raised a remortgage of £67,500 against it to fund the purchase of property number two.
The Successful Outcome of a Well-Constructed Investment Property Portfolio
Penelope had no initial intention of becoming a full-time landlord, but she can now see a way forward to owning three or maybe even four properties in the future, helping to fund her and her partners planned retirement lifestyle.

She loves the flexibility that her offset mortgage brings, having the freedom to spend some of it as she sees' fit (which she can do!), yet without fail, half of it is deposited back into her offset savings account. This allows her money to work "for her", in reducing the total amount of interest repayable.

If you are interested in offset mortgages or building your investment property portfolio, please feel free to book your free mortgage appointment today, and our remortgage advisors in Nottingham will be happy to assist you.
Buy to Let Mortgage Advice in Nottingham
Agreement in Principle FAQs
What is an agreement in principle?
In order for customers to qualify for a mortgage, they will need to obtain an Agreement in Principle from the mortgage lender. The point of this is much as the name suggests; the lender will agree, in principle, to let you take out a mortgage with them.

This is done prior to the final checks and whilst it is not a guarantee that you will definitely get a mortgage, it is a good indicator that you are on the right track.

You may see this being called a Mortgage in Principle, a Decision in Principle, as well as the abbreviations AIP and DIP. Though it may seem confusing at first with all those names, they are all the same thing.

Once you have obtained your Agreement in Principle, you will be raring and ready to go, fully prepared to support any offers you make on a property as a First Time Buyer in Nottingham.

In having this to hand, you may also even open yourself up to the possibility of negotiating with the seller on a lower price. The reason for this, is because it demonstrates to the seller of the property you are looking to buy, that you are a serious buyer and do in fact have the funds to proceed.
Frequently Asked Agreement in Principle Questions:
Will obtaining an agreement in principle affect credit score?
We regularly find that more and more lenders are choosing to go with soft searches over hard searches. Generally speaking, a soft search will leave your credit score unaffected, as they tend not to leave a footprint.

Hard searches do leave a footprint, so having too many done can cause more harm than good, especially if you don't pass each time. That's not to say a soft search will never affect you, but it is not something that tends to happen often.

Soft searches don't go quite as in-depth as hard searches, though you can rest assured that no matter which one the lender chooses to go with, they have their reasons and will choose the right one either way.
Should I avoid hard credit checks?
If you are not having hard searches done on a regular basis, then having one done shouldn't really make too much difference. When it starts to become a problem is if you start having a lot of different hard searches taken out on you within a short amount of time.

It's important to keep in mind though that if you are well aware that you do have a good credit rating, you should not feel put off by the idea of getting one done, especially if a hard search with that mortgage lender is going to be the best option for you.
Is an Agreement in Principle a guarantee that I will get the mortgage?
Though we would like to say yes and fill you with hope, unfortunately even with an Agreement in Principle to hand, we cannot guarantee mortgage success.

The mortgage lender still needs to see all your documents and only after they have done that will an underwriter be able to make their final decision.

We tend to find that customers contact us after being declined at the point of application, as they have missed a lot of the small print that is mentioned in their Agreement in Principle.

You will need to provide your mortgage lender with proof of ID, the last 3 months payslips and bank statements to show how you handle your money, all before a lender will offer your case.

The required documentation is slightly different for Self-Employed Mortgage applicants.
Can I make an offer without an Agreement in Principle?
Technically yes, you can make an offer without an Agreement in Principle to hand, though we personally believe you would be much better off having one with you.

Any credible estate agent will ask you for one of these before they do business with you, as they will want to know that you can go ahead with the mortgage process.
How long does it take to get an Agreement in Principle?
One of our dedicated mortgage advisors in Nottingham can typically obtain an Agreement in Principle within 24 hours of your initial appointment.
How long does an Agreement in Principle last for?
An Agreement in Principle will usually expire after somewhere between the 30-90 days mark. That being said, please be aware that you don't just have to jump at the first house you see. Take time and take care when looking for a home.

If your Agreement in Principle expires, there are no worries. We can quite easily get you a new one once you are ready to make an offer on a property that is right for you.

Finding your dream home only to be declined by a lender can be both frustrating and disappointing. To counteract this feeling, we recommend getting an Agreement in Principle as early as possible, to ensure you are readily prepared for the process.
Agreement in Principle Mortgage Advice in Nottingham
To learn more about what an Agreement in Principle is and how they can help, take a look at our YouTube video below.
8 Factors to Help you Decide Where to Live in Nottingham
First Time Buyer Mortgage Advice in Nottingham
There are a lot of different things that potential home buyers in Nottingham must take into consideration, whether their journey will be as a first time buyer in Nottingham or you're moving home in Nottingham.

The sort of things you'll have to bear in mind will include your personal finances, any mortgage arrangements and the finding the best deal you possibly can for your personal and financial situation (this is something we can help with).

Before all that though, before even deciding on the house you wish to buy, you have to know where it is you want to live. What do you want nearby, what's important, do you like thriving scenes or quiet settings?

Below we have collated a list of the various factors you'll need to consider when you start looking for your new home.
Things to Consider When Moving Home in Nottingham
1. Where to Live: City Centre or a Rural Location
First of all you need to decide what type of setting you wish to call home.

Maybe you prefer the hustle and bustle of the big city and are looking to live closer to the centre? Maybe you prefer the quiet life and wish to live on the outskirts, perhaps near some countryside?

You will need to carefully consider your choice here, as determining this will have an impact on any potential commutes to work, the choice of local amenities, shops and schools.
2. Transport
Although we see more and more people in the UK working from home, for a vast majority of homeowners, you're going to have to factor in the way you will be getting to work.

It's not just work of course, you'll also have to factor in local convenience accessibility, such as how easy it will be to get to the local shops or any other businesses/services you require the use of.

Will you be able to walk where you need to go, or do you need to drive? If you do, will you need to access any motorways to get there?

Beyond that, what if you don't drive? Are there are buses, coaches, taxi companies or train stations nearby? Depending on location, these options may be limited greatly, especially if you're looking to buy in the middle of nowhere.
3. Education
If you happen to have children, it is generally considered important to factor in what schools are in the area and the quality of those schools.

By taking a look at school league tables online, you will be able to judge for yourself what the best options for your children may be and plan accordingly.

There are some great schools across Nottingham for kids to get a good education, as well as options for further education beyond that.

Check the catchment areas too, as the area you've been looking at may not fall into the catchment area for a particular school that you may have wanted for your children.
4. Local Amenities
Depending on the type of lifestyle you lead, the sorts of things you will be looking for in an area may differ. Some people may have the preference of having nearby shops to visit.

Others may not be so fussed about that (especially now that home deliveries of your weekly food shop exist!) but may want to be close to a gym or a local pub.

Some that have children or pets may prefer to live close to parks or open spaces. We highly suggest that you make a shortlist of the things you need and what you would like to prioritise nearby.

When you find a house you are interested in, you can then take a look at your compiled list and see how much of it you are able to tick off.
5. Family & Friends
This is a personal choice and will be dependant on your circumstances. Some people will rely on family support, often when it comes to children. You may need family nearby for childcare or school runs.

Having a social life is also usually a crucial part of people's lives. Do you want your friends to be as close as possible? Would you prefer to have some distance between them so you can visit sporadically?
6. Value For Money
Your choice of home location will also determine how far your money is going to go. Depending on location, you may have a different option of houses to choose from.

For example, some areas may allow you to find a 4 bedroom house for the price of a 2 bedroom flat in another area.

You may have to compromise on some of the things you previously listed as wanting nearby, in order to find an affordable property near the area you were set on.
7. Where to Live – Local Community
Some of us would prefer to be a part of and contribute to a local community.

With this in mind, you may possibly wish to surround yourself in a local area that is involved in arts, crafts, book fares and local events at the community hall or town/village green.

Take the time to look and see what activities occur in the local area. For best results see if there are any local or even town websites.

Maybe even visit the area beforehand and get to know some of the locals. They will likely be able to inform you on current events and what is available nearby.
8. House Prices – Long Term
The chances are your new home is a long term investment and you'll be wanting to see house prices increase, in the event you ever do decide you want to look at moving home in Nottingham.

In order to be more informed about this you could look to see if the local area has any investment plans, new road links, planned development projects, shops, sports facilities or if there are any companies looking to call it home base.

All of these can have an affect on the future of your new homes value, so if this is something that is important to you, you should definitely make sure that you do plenty of research ahead of time.
Obtaining a Mortgage as a Newly Qualified Teacher in Nottingham (NQT)
Newly Qualified Teacher Mortgage Advice in Nottingham
Congratulations are in order! The hard work has paid off and you have recently passed your exams, becoming a newly qualified teacher.

From here you have found yourself a teaching position and are understandably very excited to get started in the classroom. The catch here, is that this start to your career also requires you to move to Nottingham.

Times are now equal parts exciting and stressful for you, as you now begin struggling to balance owning your own home s well as starting your brand new job role. Worry not, you are definitely not the only one to have been in this situation.
Mortgages for NQTs
Finding a lender that is actually willing to offer a mortgage to someone who has become a newly qualified teacher can be a bit tricky. This comes down to a lack of work history or having temporary contracts, to name a few reasons.

Even still, it's important to remember that with some care from a mortgage advisor in Nottingham searching for the right lender, you may still be able to obtain a mortgage.

There are indeed lenders out there who will lend to someone who is newly qualified, with some even potentially offering reasonable deals to those working within the education sector.

The tricky part is trying to navigate around the various mortgage lenders and finding one that you match up with the criteria of.

This is the benefit of working with a trusted team of mortgage advisors in Nottingham who will be able to search over thousands of deals on your behalf. It's our hope that in doing so, we'll open you up to better deals and rates.
What mortgages for NQT teachers are there?
The different types of mortgage available for NQTs can include:
Shared Ownership
Variable-Rate Mortgages
The benefits of speaking with a fast and friendly mortgage broker in Nottingham.

Here are some of the critical factors that can be taken into consideration:
No previous employment history required.
A 12-month first post-contract can get treated the same as a permanent role
Mortgages available up to one month before the start of the first contract (so you can apply in the August for example)
Up to 95% loan to value
How a Mortgage Advisor in Nottingham Can Help
Our experienced mortgage advisors in Nottingham are extremely familiar with the workings of various lending criteria, utilising their many years of experience to help our customers with their mortgage circumstances.

Get in touch with us today to see what options you have available to you. Our dedicated team will take some details from you, using this information to work hard and see if we can get a mortgage suitable to your individual circumstances.
How Much Deposit Do I Need to Buy a House in Nottingham?
First Time Buyer Mortgage Advice in Nottingham
Putting down a deposit in Nottingham
The amount of deposit you will be required to have in order to purchase a property is something that will be entirely dependant on your personal and financial circumstances, as well as looking at what you are trying to do. In this article we will take a look at how much deposit you may need.

The previous era of 100% and 125% mortgages are long gone, as is the infamous credit crunch. The Coronavirus did see certain deals pulled back, but nowadays we are seeing more and more lenders feeling confident about offering 95% mortgages to homebuyers.

Based on the history of mortgages and what went wrong, having to prove to a mortgage lender that you are a responsible borrower and have the means to maintain your monthly payments. Lenders need to have a confidence that they have invested correctly. This factors in with your deposit, as it also show that you have something to lose too.

The initial saving for a deposit can often be the difficult part for many, especially first-time buyers in Nottingham who have only been renting up until this point.

It can also be seen as one of the biggest obstacles in the property market and there are certain factors involved which could make the whole process seem even more daunting to someone who hasn't experienced it before.

As an open & honest mortgage broker in Nottingham, we are always hearing questions from customers regarding deposit. In fact, we can safely say that it's one of the most commonly discussed topics from first-time buyers. As such, we have compiled a list of the usual suspects and the answers to these.
Why do I need a deposit?
In years gone by, 100% mortgages were on hand to most customers. There were even a selection of companies who were offering 125% loan to value mortgages. In hindsight, this sounds crazy, as it means if you were buying a property valued at £100,000, the mortgage lender would be willing to lend you up to £125,000.

Lenders require their customers to put down a deposit to reduce their risk of lending such a large amount of money. If they lend you 100% of the purchase price and for one reason or another you happen to fall into arrears, the lender would need to repossess the property in question and attempt to sell it.

If property prices dip even by a small amount, they have now not only made any profit, but have in fact lost money on this venture.

Also, there tends to be a school of thought that if you haven't invested some money into a property, whether it be from your own savings or a gifted deposit, you might lack attachment and find it easy to "walk away" if you happened to struggle with your monthly repayments.

There is also the argument that if you are not in a position to save up at the very least, a minimum of 5% of the purchase price of a house for a deposit, then you likely aren't ready for such a commitment at this current moment in time.
What about putting down more than 5% deposit for a mortgage?
Putting down more deposit is generally a great thing to do!

If you are putting down a higher amount than the average home buyer, the lender may actually be willing to offer you a deal with lower interest rates than usual, as you will be borrowing less and therefore less of a risk.

For example; if you are looking to buy a £100,000 home and have only saved 5% deposit, you're only able to access 95% mortgages and would be borrowing £95,000. However, if you were able to save a 20% deposit on that same property, you would be open to 80% deals and therefore only borrowing £80,000, which a lender would much prefer if an option.

It is important to know that products are offered in bands of 5% with 95% of Mortgages being the most expensive.
Can I take out a personal loan for the deposit?
In some cases, very specific ones, using a personal loan for a deposit may be acceptable, though this depends on the lender.

It's not widely accepted, because a mortgage lender will consider it as a monthly mortgage payment and therefore treat it is technically is, as an additional credit commitment. Because of this, you would be granted a smaller mortgage as opposed to the types of mortgage deals available to those who outright saved for the deposits themselves.

The reason why mortgage lenders don't like to get involved with these circumstances, is because you are essentially borrowing 100% of the purchase price, which if we go back to mortgage history, is what caused problems in the first place.
Are gifted deposits accepted by lenders for a mortgage?
The majority of mortgage lenders will accept gifted deposits as a source of your deposit towards a property.

Gifted deposits can pretty much come from anyone, though it is generally family and depending on criteria, friends too. There are certain obligations that the 'donor' will have to comply with, such as being willing to confirm it is a gift and not something you're required to pay back.

They must also provide ID and proof of funds to keep in line with the lenders' to anti-money laundering regulations.

As it pertains to modern society, if it weren't for ever-rising popularity of gifted deposits, known by many as the 'Bank Of Mum and Dad', we believe that the property market landscape would look completely different to how we've come to know it.
Evidencing the Deposit
Much like when using a gifted deposit, using your own savings to fund a deposit will require certain forms of ID and various documents in order to evidence how these funds came to be over time.

Lenders like to see how you have been saving over time. If it looks to the lender like you have had any large deposits moved into your bank account recently, then you will need to provide documentary evidence to show where it came from.

For example, if you have recently sold a car then you will need to provide the receipt and the amount you sold the asset for. The number present on this receipt should match that of the amount in your account.

Large cash deposits can sometimes prove to be problematic, especially when it comes to audit trails. When it comes to your application, audit trails can often be one of the hardest parts. The longer the funds have been in your account then the easier everything should be.

If you are selling a property, then the Memorandum of Sale provided by the Estate Agent will be sufficient proof.
Buying as a sitting tenant; is a deposit still needed?
Not always. If it is a genuine discounted purchase, let's say that the house is worth £100,000 and you have been offered it for £90,000, then some mortgage lenders will accept this discount as your deposit. This also can apply if you have access to the Right to Buy Scheme when purchasing from the local authority, such as council or housing association.
Can I Have Two Mortgages in Nottingham?
Second Mortgage Advice in Nottingham
There are a lot of reasons as to why a property owner may look to take out a second or even a third mortgage. Some examples of these include using an additional mortgage to expand your property portfolio or to help one of your family members to move into a home.

You may find it more difficult to obtain a second mortgage, compared to when you took out your first one, as you will now have two lots of mortgage payments to factor in. If you cannot afford the costs of both, you will likely not be accepted for a second mortgage.
Why would I want a second mortgage?
As a mortgage broker in Nottingham, we've seen people apply for a second mortgage for lots of reasons:
Raise money.
Purchase a new home to rent it out (Buy to Let).
Rent out your existing home to purchase a new one (Let to Buy).
Purchase a home for your children/family member.
Named on an existing mortgage and want to purchase a new home?
Second Mortgage to Raise Money
If you are a good couple of years into your mortgage term, you have most likely built up a portion of equity within your home. Rather than a remortgage, some may look to take out a second smaller mortgage of sorts, to release some of that equity.

This type of mortgage process is known as a further advance. A further advance gives a homeowner the option to borrow more from their current mortgage lender, as a means of funding potential home improvements or the deposit for another property purchase.

It is similar in the way it functions, to a remortgage to release equity. A remortgage to release equity will allow you to switch to a better product with a new mortgage lender, releasing a portion of your equity.

A further advance is with the same mortgage lender, has its own interest rates and stands separately to your current mortgage balance. Whilst it means you will be paying two mortgage balances to the same mortgage lender, it can often be cheaper than the fees involved in a remortgage.

In order to get a further advance, you'll have to pass an affordability check by your mortgage lender, to make sure that you are able to take out this additional mortgage. The amount you are able to borrow will depend on the equity in your property, though you likely won't be taking it all out.

Our mortgage advisors in Nottingham will take a look at your case and help you to decide whether a remortgage to release equity or a further advance is a more suitable mortgage option for you.
Rent Out a New Property (Buy to Let)
Whether you are a landlord with a lot of experience already, with current buy to let properties to your name or an aspiring property buyer who is thinking of taking that initial leap into the buy to let industry, you're going to need more than just one mortgage.

Buy to let landlords that have a large property portfolio will no doubt be used to the process of getting more than one mortgage by now, but if you are just starting off or own a couple, it will still most likely be beneficial for you to speak with a mortgage expert.

Having multiple mortgages on buy to let properties is still a similar process to your current mortgage(s).

You will still need to meet the criteria for the mortgage in question, put down a substantial deposit (typically at least 25% of the purchase price) and show that you are able to afford the monthly payments.

Of course, your mortgage payments will generally be covered once you find tenants to live inside the property, however, you may not find some straight away so you need to be able to manage the payments beforehand.

For expert mortgage advice in Nottingham for a buy to let mortgage in Nottingham, feel free to book yourself in for a free mortgage appointment today and we will see how we can help.
Rent Out Existing Home to Purchase a New One (Let to Buy)
Otherwise known as a let to buy mortgage, a variation of buy to let, this is an option that can allow homeowners to get a second mortgage on a newly purchased home, whilst renting out their current property, becoming landlords in the process.

With this type of process, you are planning on finding a tenant to move into your current property, so that you are able to move out. This is often a popular choice for landlords who would like to move into a bigger home, but keep a property in their portfolio.

It also happens to be commonly occurred with "accidental landlords", people who perhaps never initially planned to become a landlord, with that plan changing as time has gone on.

Our expert buy to let mortgage advisors in Nottingham also specialise in helping customers with let to buy mortgages, so book online today and we will see how we can help with your let to buy process.
Second Mortgage to Purchase a Home For Your Children/Family Members
If your children or family members are struggling to find their footing on the property ladder, you may be able to take out a second mortgage in your name, allowing them to move into the property.

Another popular choice for some, that doesn't require a second mortgage, is to gift a deposit. Gifted deposits can be a great way to help you to get your family onto the property ladder when they are struggling.
Named on your existing mortgage and want to buy a new home?
In various instances, whilst you may have intended to take out a second mortgage, you may also find that you are listed on two mortgages purely by circumstance.

As an open & honest mortgage broker in Nottingham, the most common reason we see for people being listed on two mortgages is because they have become divorced or separated.

Unfortunately, it can be quite difficult to remove either your own or your ex-partner's name from a mortgage, as not only do you both have to mutually agree on who gets removed, but you also have to prove the remaining party can afford to keep up payments by themselves.

If you happen to still be listed on a mortgage with an ex-partner, it is important to try and get your name removed as quick as you can. This ensures you are less likely to be affected by the financial links to your ex, as if they miss any payments, it could bring your credit score down.

Whilst this is the recommended route, if for some reason you are unable to get your name removed from a mortgage, there may still be mortgage options available to you. Some mortgage lenders will take your personal circumstances into account.
Why Should I use a Mortgage Broker in Nottingham?
You decide: Mortgage Broker in Nottingham or Direct?
It's completely your choice to go to a lender directly; some are a little more adept and can manage the process themselves. When it comes to this you can either go and visit a branch or do it online.

Whilst this sounds like the steps are easy enough, there are still many reasons as to why a person should use a mortgage broker in Nottingham. Our mortgage advisors in Nottingham have taken time out to put together a few pros and cons to help you decide between the two choices you're faced with.
Advantages for Your Options
Some of the benefits of homeowners and home buyers going direct to their bank or building society means that you'll be able to save some finances. In the past, you may have found that the bank manager knew your finances incredibly well, but that all changed when credit scoring came into place.

Other potential advantages are that you'll find some lenders may offer exclusive products for your mortgage, ones that are only be able to be obtained from straight to the lender themselves. They do this so that it appeals to both customers and brokers alike, but these exclusive offers can be subject to change and can sometimes when they stop being available with the lender, can still be obtained by going to a mortgage broker in Nottingham instead.

From 2014 onwards, mortgage lenders were no longer allowed to sell mortgages on a non-advised basis, on a whim with any customer interaction. Up until that point, some applicants were under the impression that they were receiving advice when in fact they weren't speaking with a qualified advisor. This meant that they had opted out unintentionally from consumer protection that they would've received by speaking with the right person.

Due to these changes, lenders had to change the way they ran their business, meaning that it could take up to a month to speak with an advisor. If you have had your offer accepted on a house, this is of course not a good thing, as obviously you really want it. Because of this, mortgage brokers became a more popular option. As a part of our mortgage advice service, we aim to give you same-day mortgage service. When you Get in Touch, we try and connect you with a dedicated mortgage advisor in Nottingham at a time that best suits you.

Back in the '90s, it was a lot more challenging to compare mortgage deals. Through the advancement of technology, finding a competitive mortgage is now a lot easier, as everything is basically online now. The issue people are faced with, is not knowing whether you meet mortgage criteria and it's hard to find products that are tailored to your individual circumstances. Wherever you're searching, it is important to bear in mind that the deals with the lowest tend to carry high arrangement fees.
Affordability
Another key factor that could determine where you go, is affordability. It doesn't matter how good a deal might look to be, if you aren't able to borrow the amount of money you need. Because of this and because of how serious of a financial commitment this type of process is, many prefer a mortgage broker to help them along the way.

As it can be seen with many lenders nowadays, there are various different factors that can make a mortgage application so much more complicated. For example, these may be:
Poor credit history
Self Employed Income
Mixed source of deposit (savings/gift)
Let to Buy (keeping your current house and buying another)
Contract workers/zero-hours contracts
Affordability
As the years have passed, lenders have attempted to differentiate themselves from their competition by ways such as offering better deals than others. The main way they do this is through their differences in lending criteria. For example, some lend more towards those who are Self-Employed in Nottingham, whereas some might take a more relaxed to blips on your credit report.

Our mortgage advisors in Nottingham understand that your situation will be unique to you. Through our experience as an open & honest mortgage broker in Nottingham, we have seen various unique and complex scenarios in the past. It's our hope that we will be able to draw from that experience in order to recommend a more suitable mortgage for you at the lowest rate possible.

However, it's not just about the mortgage. Even if the application itself is straightforward, we've noticed our clients rely on us for much more, we strive further than just sorting your mortgage deal. Our mortgage advisors in Nottingham will be able to recommend other professional services such as Solicitors and the array of different surveys and protection available to you as a home buyer.
Broker v Direct
It has already been covered previously, but mortgage brokers in Nottingham tend to be far more responsive than high street mortgage lenders. It is not uncommon for our dedicated and hard working advisors to provide out of hours (beyond the standard 9-5 shift) and weekend appointments. They are also able to respond to clients' emails during this time to offer a more responsive service as opposed to restricted working hours.

One factor which is often overlooked by many as to why a mortgage broker in Nottingham is a highly preferred option to a lot of home buyers and homeowners alike, is that a person may simply prefer to let someone else handle the full transaction and take the stress out of the situation. Professional applicants, such as those who run a Buy-to-Let in Nottingham, have seen this to be very beneficial as they have their own customers to handle, so find it to be much easier having a helping hand do the work for them.

If you are in need of expert mortgage advice in Nottingham, whether you're a first-time homebuyer, moving house, looking to remortgage, are a buy-to-let landlord or even something else that hasn't been touched upon, please do Get in Touch. Our team of mortgage advisors will do their very best to bring you one step closer to mortgage success, keeping the process as clear and simple as they possibly can.
Mortgage Advice in Nottingham
What is a 95% Mortgage?
95% mortgages are exactly what you might imagine, where you are borrowing against 95% of the property price, and then the remaining 5% is paid with your deposit. To demonstrate an example of this, let's say you wanted to buy a property that was worth £150,000 with a 95% mortgage. For this, your minimum deposit would be £7,500 and you would borrow the remaining £142,500.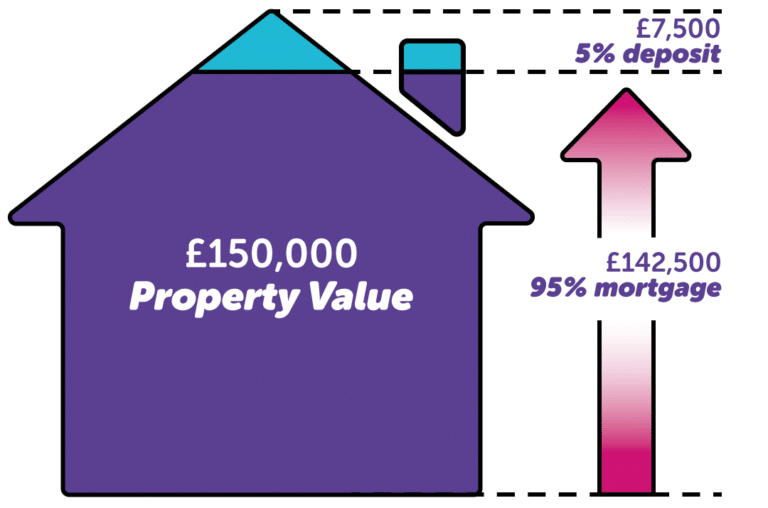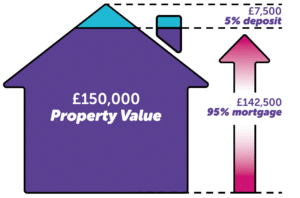 95% Mortgage Advice in Nottingham
As we learned from the March 2021 Budget, Prime Minister Boris Johnson announced a Mortgage Guarantee Scheme for mortgage lenders, introduced with the hope of making 95% mortgages more readily available from the high street banks.

This really is great for First-Time Buyers and Home Movers, as this scheme will stick around until December 2022. Specific terms and conditions will apply. If you Get in Touch with a Mortgage Advisor in Nottingham, they will be able to look at with you, to see if you qualify.

All our clients who wish to work with us for Mortgage Advice in Nottingham, will receive a free, no-obligation mortgage consultation. During this consultation, a member of our dedicated mortgage advice team will be able to make a recommendation on the most appropriate path for you to take.
Can I get a 95% mortgage?
You may find that 95% mortgages tend to be more for First-Time Buyers in Nottingham & those who are Moving Home in Nottingham. Saving for a 5% deposit sounds like a pretty simple plan, but you'll still need to have a really good credit score and be able to prove to the lender that you are able to afford your monthly mortgage repayments, before they will consider you for a 95% mortgage.
Improving your credit score
You'll need to show the lender that you have a good credit score before you'll be accepted for a mortgage, especially when you're looking at getting a 95% mortgage. To improve this, we would recommend things like paying any current credit commitments on time, ensuring your addresses are updated and making sure that you're on the voters roll. For a more detailed look at our credit score tips and tricks, please see our How to Improve Your Credit Score guide.
Affordability
Affordability is something else you should also consider. Providing the lender with enough details of your income and monthly outgoings (things like your bank statements will be necessary for this) and any pre-existing credit commitments will allow them to get a general overview of whether or not you are able to afford a 95% mortgage.
Can my family help me get a 95% mortgage?
It's not uncommon these days to see lots of family members helping each other find their footing on the property ladder, with this especially being the case with parents and their desire to see their children succeed. This normally happens by a family member gifting the deposit required to proceed with a mortgage. Known by many as the "Bank of Mum & Dad, Gifted Deposits should be solely a gift, and not a loan to be paid back at any time. The lender will need this to be agreed and proven, before they will accept using it towards your mortgage.
How do I choose the right 95% mortgage?
It's always to make sure you have the right type of mortgage, especially with something like a 95% mortgage. Each type works differently, with that choice allowing you to find one that is most appropriate for your personal circumstances.

Some homeowners and buyers tend to prefer a Fixed Rate or Tracker Mortgage, mortgage types which mean you either keep interest rates at a set amount or your interest rates will instead be tracking the Bank of England base rates.

On the other hand, you might be more comfortable with the way Interest-Only or a Repayment Mortgages work. Interest-Only allows you to benefit from cheaper payments until you need to pay a lump sum once it reaches its end (only really now used for Buy-to-Lets), whereas a Repayment mortgage (your average normal mortgage) means you'll be paying a combination of both interest and capital every month.

You can read more about each of these different types in our Different Types of Mortgages article.
How can a bigger deposit help with my mortgage?
A mortgage is incredibly important financial outgoing, and as such you need to be ready for it. If you aren't ready ahead of time, you might find yourself more likely to be affected by things like higher interest rates, remortgaging difficulties due to less equity and then negative equity.

Do not worry though, as these problems can be avoided if you're savvy with your process to begin with. The more deposit you put down, the less risk the lender will see you as.

Putting down a larger deposit would not only reduce the interest rates by a good amount, but would also give the property more equity and reduce the risk of negative equity, which will be because you are borrowing less against your potential new home.

So, whilst the risks may provide initial uncertainty, planning ahead and saving for a larger deposit to access something like a 90% or even an 85% mortgage will be very helpful in your mortgage process and something you'll be able to reap the rewards from down the line.